Digital X-Rays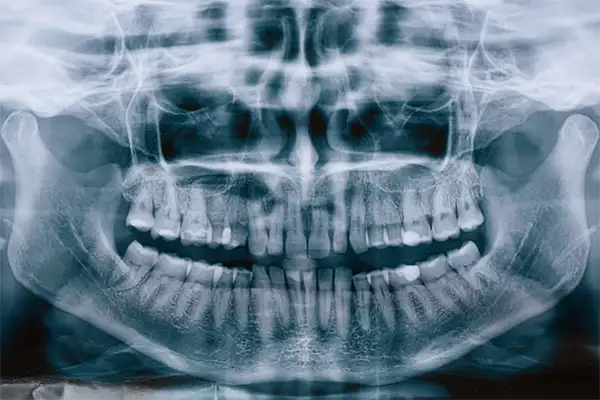 When x-ray technology was introduced in 1895, medical and dental science was revolutionized. Today, it's difficult to imagine receiving medical or dental treatment without the aid of x-rays. In dentistry, specialists use x-ray images, or radiographs, to examine, diagnose, and treat oral problems that may be invisible to the naked eye, such as tooth decay, abnormal growths, abscesses, and premature gum disease.

Since their invention, x-rays have been used by dentists to save countless teeth, minimize pain and discomfort, and treat oral disease. Decades later, digital x-rays have offered dentists and patients a safer and more effective method of capturing radiographs.


What Are Digital X-Rays?

Digital x-rays are a smaller and less radioactive form of x-ray technology that uses a small electronic sensor to capture an image. This sensor is placed inside the patient's mouth, a radiograph is taken, and the x-ray image appears immediately on a computer monitor.


What Are The Advantages Of Digital X-Rays?

The foremost safety concern of x-rays is the amount of radiation a patient is exposed to. Digital x-rays have minimized this exposure, producing only 10% of the amount of radiation that traditional x-rays do. Additionally, traditional x-rays must sometimes be developed using toxic chemicals or film; this is not the case for digital x-rays, as the developed images are visible on a computer monitor within seconds.

While traditional x-rays may take hours or days to be developed and examined, digital x-rays require minimal wait time. The resulting x-rays also produce a sharper image, allowing dentists to more precisely examine, diagnose, and treat patients. For closer observation, these x-rays can also be magnified, increased or decreased in contrast, and swiftly compared to previous x-rays to screen for even the smallest changes in tooth structure.

The digital nature of these x-rays also makes storing and sharing radiographs much easier. This is especially useful for providing images to other dental specialists when further specialized treatment is needed.


Are Digital X-Rays Safe?

Digital x-ray technology has certainly minimized radiation exposure and its risks. Nevertheless, some exposure to radiation is still present. X-rays themselves are a form of radiation that captures images by penetrating tissue. Radiation presents a risk of causing cellular changes that can lead to future illness.

It must be noted, however, that radiation is present in our daily lives. It is widely thought that illness only occurs after repeated exposure to radiation. Constant exposure to the sun, for example, can also trigger disease. To minimize repeated x-ray exposure, digital x-rays are only taken if the benefit of information outweighs the risk of x-ray exposure. X-rays are not taken for every diagnostic procedure but to acquire more detailed information for a diagnosis when needed. The same is done for computed tomography, or CT scans, which increase the level of exposure but produce a much larger scale of information and detail in each scan.

X-rays and CT scans are taken on a case-by-case basis, and safety is always our highest priority regardless of which method we use.

If you are concerned about or interested in x-ray scans, don't hesitate to reach out to our office at 214-363-9946.